SERVING LOS ANGELES COUNTY
Elite1 Termite Control, Inc. serves the entire Los Angeles County and surrounding cities. Call: 310-504-4555
A FIVE STAR RATED COMPANY ON YELP
Since 2012 Elite1 has been awarded hundreds of 5 star reviews from satisfied customers.
FREE TERMITE CONTROL ESTIMATES
Elite1 Inspectors will create a termite control plan tailored to your specific needs free of charge.
Elite1 Termite Control, Inc. provides effective termite control and preventative services to Los Angeles, Long Beach, Manhattan Beach, Torrance, Malibu, Santa Monica, and any other cities in Los Angeles County.
There are two types of termites that you should know about. Subterranean termites love dark and damp areas and require contact with the soil. They feed off cellulose, wood, and make their mounds and nests in areas where water and food are abundant. Drywood termites don't require contact with the soil and live in un-decayed wood with low moisture content. Termites can live in attics, basements, and inside your home or building.
Termites are unlike any other pests, once they established a colony, they are incredibly difficult to eradicate without the help of trained professionals. Using state-of-the-art termite removal strategies, Elite1 technicians can eliminate the threat of termites in a manner which meets the specific needs of your property.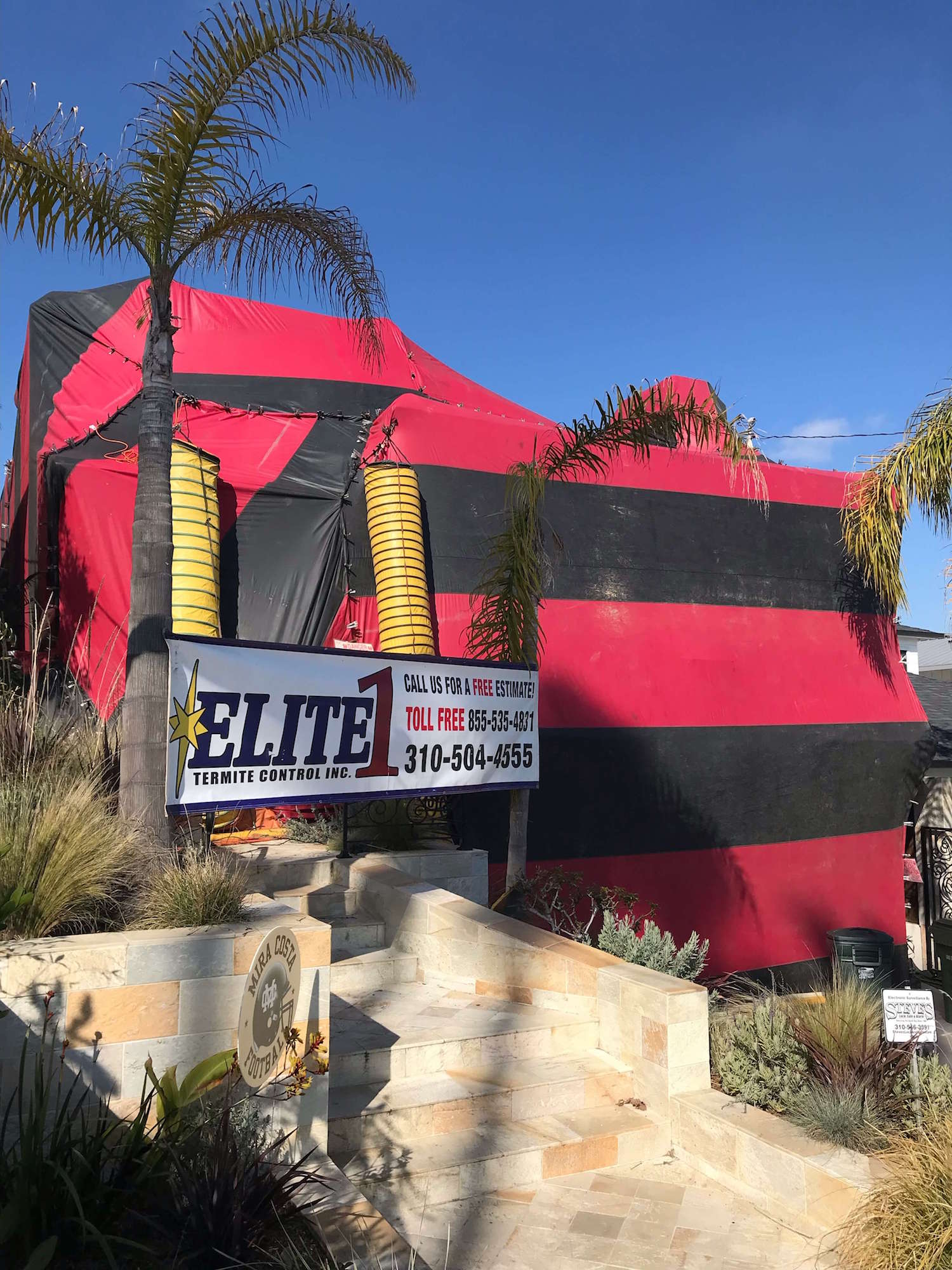 Bilingual, Confident, and Advanced
If you prefer to speak Spanish, Elite1 has you covered. One of their professional bilingual technicians are just a call away. Confidence is Elite1's greatest resource. With it they can face any job knowing they can handle it. Elite1 Technicians are certified and equipped with state-of-the-art equipment and strategies making them the best in LA County.
Very impressed with Mario and his staff. They are very professional in doing business and taking care of our due Termite Maintenance for our House. He is very clear with his contract and what services, warranty they provide. Thank you Mario! Highly recommend him to Family and Friends. He is very honest.
Mario was very professional and thoroughly explained to process. The day of the extermination, they arrived on time and got started with the tenting process, which lasted maybe an hour. When I returned after two days, everything was in tact, and all traces of the extermination had been cleared. I highly recommend Elite Termite Control.
Mario came to give an estimate and was thorough, clear, swift and efficient! Highly
Recommend.
Agoura Hills • Alhambra • Arcadia • Artesia • Azusa • Baldwin Park • Bell • Bell Gardens • Bellflower • Beverly Hills • Burbank • Calabasas • Carson • Castaic • Cerritos • Claremont • Commerce • Compton • Covina • Cudahy • Culver City • Diamond Bar • Downey • Duarte • El Monte • El Segundo • Gardena • Glendale • Glendora • Hawaiian Gardens • Hawthorne • Hermosa Beach • Hidden Hills • Hollywood • Huntington Park • Industry • Inglewood • Irwindale • La Cañada Flintridge • La Habra Heights • La Mirada • La Puente • La Verne • Lakewood • Lawndale • Lomita • Long Beach • Los Angeles • Lynwood • Malibu • Manhattan Beach • Maywood • Monrovia • Montebello • Monterey Park • Norwalk • Palos Verdes Estates • Paramount • Pasadena • Pico Rivera • Pomona • Rancho Palos Verdes • Redondo Beach • Rolling Hills • Rolling Hills Estates • Rosemead • San Dimas • San Fernando • San Gabriel • San Marino • Santa Clarita • Santa Fe Springs • Santa Monica • Sierra Madre • Signal Hill • South El Monte • South Gate • South Pasadena • Temple City • Torrance • Vernon • Walnut • West Covina • West Hollywood • Westlake Village • Whittier